StreeTALK: what is your dream city?
StreeTALK: What is your dream city? is a participatory installation of passersby commentaries and drawings on the future of the city. A street corner is restaged as a space of convergence for Palo Alto citizens, workers, and visitors.
Framed by a basic set of rules, passersby are invited to address a simple prompt. The ensuing responses become a conversation rooted in the intersection of thoughts, ideas, concerns and suggestions. Our Palo Alto street corner turns into a lively universal agora. The final piece will stand as an information tree and surely an unpredictable collective artwork in its own right.
Today more than ever, merging walls, people and play is an invitation for our imagination to further revitalize the urban fabric and make it more organic.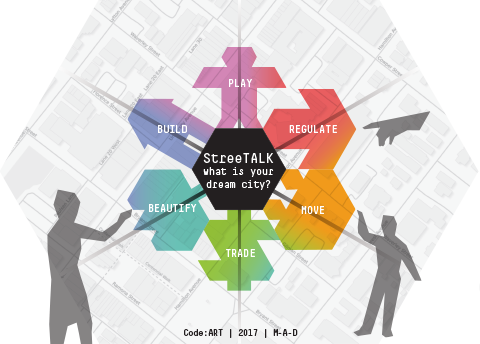 project website: »streetalk.space
related project: »Dinner Conversation (an installation/intervention in Rome)