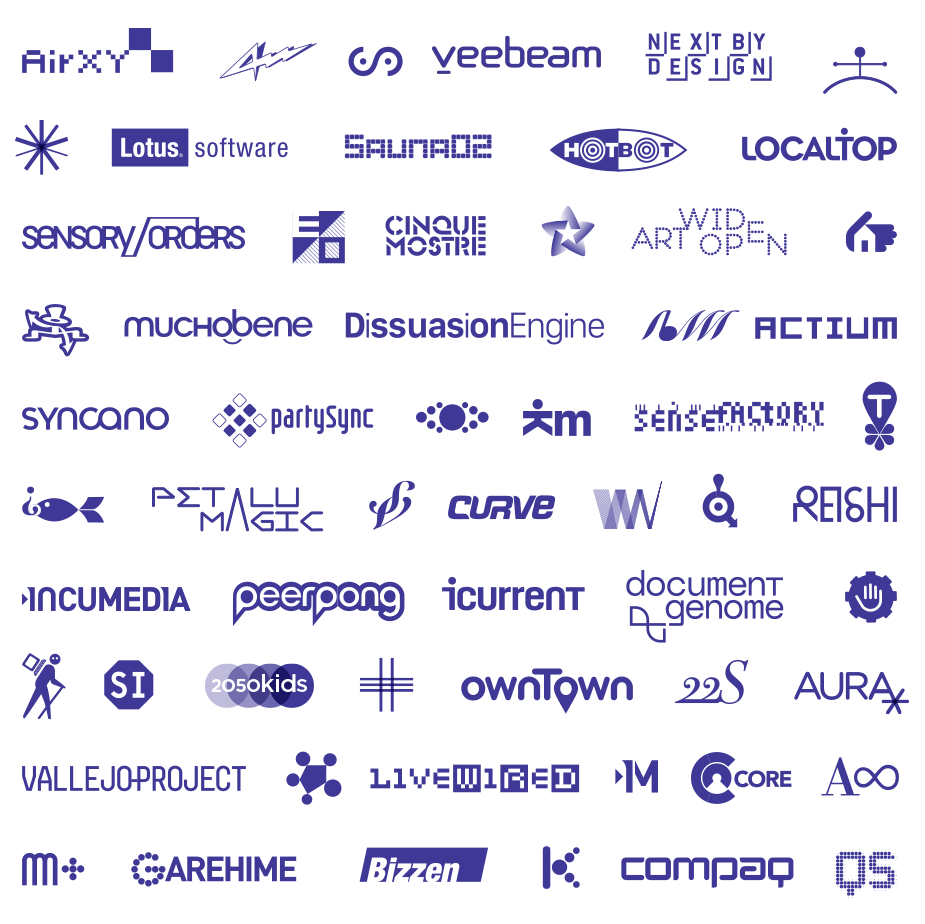 visual identities mix
The logo follows all functions.
If a good design system is the foundation for good branding and good business, then, a good logo is merely the handle of good branding. It is good branding when it turns heterogeneous parts into an integrated concept. And it is good business when it allows to economically support all aspects of corporate communications while remaining scalable and adaptable to future shifts.
Conceiving an efficient logo is a necessary mean to achieve harmony between the core parts of corporate communications: identity, stationery, collateral, web, etc. And it is a key element to reinforce design expressions as they appear in all communication programs.
These logos and product icons are part of full or partial design systems including elements ranging from naming to environments. They are also a partial representation of our clients list.
2050kids (environmentalist advocacy group)
2214.SPACE (art gallery)
22Steps (Simmons Institute installation)
Bay School
Berkeley Hillside Club Concert Series
Blue Note Music (music store)
Cinque Mostre (exhibit)
Counterpolis (media immersive installation)
Curve (multimedia company)
Dualterm (Toronto Pearson Airport installation)
Actium (business consulting)
AirXY (Venice Architecture Biennale installation)
Architecture For Humanity
Art Wide Open (Manetti Shrem Museum initiative)
Aura (art database app)
Bizzen (business networking)
Catalysts! Engage (ExperimentaDesign exhibit)
Compaq
D7TV (online video channel)
Garehime (school)
Hotbot (WiredDigital search engine)
IBM TVT – Lenovo (product icons)
Incumedia (online film community)
International Design Conference '99 in Aspen
Icurrent (on-demand news website)
Knowledge Management (IBM initiative)
Lotus (design system) / IBM
Milieux (Concordia University research center)
Muchobene (design system social media app)
NextByDesign (public design initiative)
Owntown (design system for a social media app)
PartySync (social media app)
Peerpong (social media app)
Quantified Self (self tracking community)
Queer Action (healthcare advocacy group)
Livewired (push media) / Wired Ventures
Localtop (localized professional services)
Petalumagic (placemaking)
Sauna02 (exhibit)
Spontaneous Interventions (exhibits)
The CORE Conference (and related initiatives)
Spectacles for Humans (optician)
SENSEFACTORY (a large environmental performance)
Swankvintage (design system for an online store)
Syncano (online collaborative platform)
Veebeam (wireless video player)
Visible Weather (architecture agency)
WLO (financial institution)
Xmodal (Concordia University art research group)